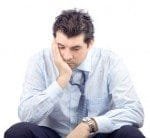 As we know, there is no 'magic pill' for Sex Addiction, but there may be some hope for the large percentage of addicts who suffer from depression.
I remember my life before my husband started taking antidepressants. It was pure HELL! Not only was he acting out (which I didn't know) but he was the classic Mr. Doom and Gloom. Nothing was ever right. If it was raining it was 'crappy outside'. If the sun was out it was 'too damn hot', if it was Tuesday…well, you get the picture. He was just miserable to live with and he made everyone around him miserable too.
He refused to discuss depression with his doctor claiming that he was not depressed, he was just feeling down about his life circumstances–an ex wife from hell, an estranged relationship with his daughters, superiors at work who didn't like him–oh he always had an excuse.
But, fate stepped in when he went to a 'Stop Smoking' clinic. He was involved in a double blind study using the drug Bupropion, also known as Wellbutrin. About a month into the study I noticed a positive change in his attitude. His mood swings leveled out and he actually became a nice guy. He didn't stop smoking but he did obtain a prescription for the drug from his physician after the study was over. The minimal dose he was taking improved his mood for about six months and then I noticed that he was becoming moody again.
He spoke with his doctor who increased the dosage and he has been fine for over three years.
So, what does that have to do with Sex Addiction? Well, a lot. Sex Addicts are most likely to act out when they are under stress. Sex is their medication, their solution to life's challenges. Antidepressants level out the extreme emotions and allow for a more balanced life, which can decrease the need to act out.
Now I am not implying that antidepressants can cure a Sex Addict, or even minimize their behaviors. What I am saying is that it may be one of the tools, used along with therapy, counseling and support groups to break the cycle of compulsive sexual behavior.
Have any of you had similar experiences with Sex Addicts taking antidepressants?
Depression is the inability to construct a future. ~ Rollo May
Hits: 1178