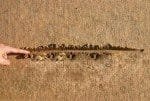 An important part of staying in a relationship with a Sex Addict is setting boundaries. These boundaries let the Sex Addict know that they can no longer abuse you and that you value yourself and have the self confidence to stand up for what you know is right for you. These boundaries also act as the 'line in the sand' that makes very clear what actions you will not accept from your spouse or partner.
Before you set any boundaries you must be very clear in your own mind what the consequences will be if your boundaries are breached. If you cannot leave or break off the relationship if they cross the line, then don't say that you will.
I have told my husband that I will never leave him, and I mean it. He has shown me, through his recovery, what a wonderful man he is. But, he is and always will be a Sex Addict. If he has a slip he knows that it will destroy my trust, which may never return. He knows that if he acts out again our relationship will never be the same. Plus, I told him that if he steps over that line I will make his life so miserable that he will wish that I had left!
A relationship with a Sex Addict cannot succeed without clear and defined boundaries. What type of boundaries have you set in your relationship?
And, once you have defined your boundaries and made sure that he understands them, how can you be sure that he has not crossed that line?
Tell us how you know if your Sex Addict spouse or partner is fully committed to recovery and is sober of if they have crossed that line and are acting out?
Simply pushing harder within the old boundaries will not do. ~ Karl Weick
Hits: 2055