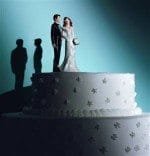 Here is my story, unfortunately there are no support groups here in Lafayette. Your site has helped tremendously.
What gives a sexually addicted gay man the right to marry a straight women without telling her?
My story began when I married my husband 19 years (in June). I had believed that I married a man who shared my value system, I thought he was the nicest, kindest person, honest, a man of integrity and I trusted him. Instead he was a deceiver, manipulator, liar and betrayer.
After 17 ½ years into the marriage he told me of his sexual orientation. The 1st thing he said to me is "If I could change it I would". Based on that, I agreed to stay and see what could be done. He agreed that there would be no further activity and he would leave no stone unturned in trying to sort out what had been done to him, the subsequent behavior and to see if his orientation could be changed or not.
He then spent the next 4 months, on a daily basis telling me in extreme details about all his sexual activity. It started with the initial abuse from the neighbor man, and each time another detail was revealed. It has been a active gay lifestyle for 40 years including the fact that for my entire marriage he cheated with males in every place we have lived. Every time he added a new detail I thought it was 'the story' but there was more and more and more – each addition was devastating me, I was completely overwhelmed and suffered post traumatic stress.
During this process he wrote down (about 70%) of his story in detail, starting from the initial abuse. In this story he states "I wanted a family that I could take home during the holidays. All my family would get together on the holidays. I thought Jeannette with her two daughters (no boys to worry about) fit the ticket. She was working full time, stable, smart, did not need a man, and had a home. " he also states ". Jeannette did not know that I had and have male sex partners."
I can not tell you why I didn't leave right then except to say he sounded sincere and it was like he finally got it off his chest. I would never have married him if I had known the truth and would not agree to live with him if he continued to be active. I didn't want a gay husband in my life, but I thought I was going to grow old with this person, that he was kind and thoughtful, unfortunately the trust bond for me was still there. It wasn't until he really showed his deceit, cowardness (he couldn't look me in the eye and tell me) and real worth as a person, did that trust bond start to break apart.
I remember talking to him about being a sex addict, something he adamantly denied. My world did not contain sex as the only way to be nurtured. After reading books on sexual addiction, sexual child abuse, gay grooming in sexual abuse, alcoholic families and passive/aggressive behaviors, he fits many of the profiles stated in the books.
The sad thing is, for the partner, often you are the one who suffers. In the end, he will go and do the same things he has done for 40 + years, nothing changes. You will have to face the betrayals, lies, manipulation and deceit and you are the one who has to put the pieces back together. Everything you valued and held sacred has been defiled, even though the part you lived was based on truth, the effects of their behavior takes a toll. Will you ever be able to trust, what if the next person is too nice, you are very guarded and what questions do you ask about their prior sexual encounters. A straight person might think you are a little strange.
Just a few examples of situations that existed but I didn't put together:
While married to him the only thing that I knew that was a odd sexual behavior was that he told me when he was a teenager he masturbated 3 – 5 times a day. I always thought was excessive, of course he told me that it was what all boys did. I didn't have any brothers so there was nothing for me to gauge it from. There didn't seem to be any other inappropriate behavior associated with sex so there was nothing to attach the oddness to.
Very early on when we 1st started dating we were at dinner and I felt like he was staring at my breast. When I asked him why, he said that he was just looking at my necklace and how nice I looked. We continued dating and didn't even kiss for about 4 months, his behavior was respectful. So I thought that maybe I was wrong and that he had a strong value system and was disciplined. Boy, was I wrong, in his written story he said, "In my 35 years of dating females, I was never the aggressor". Of course, he didn't have to be aggressive, he was getting his jollies with his male sex partners. It didn't require, discipline, sacrifice or restraint on his part, he was getting it all along. Isn't he just the nicest and kindest person. How could I possibly have known.
When we moved to Lafayette IN, it was a little different situation. In all the other places we lived, the mill and the people who worked there were spread out geographically where they lived. In Lafayette it really is the hub of the area, so both men that he worked with lived in Lafayette. I remember him every time we drove by a topless bar, he would mentioned how these two men would go there. They were both married and it made me feel uncomfortable, there was a sense of betrayal from these men in regards to their wives. I truly believe my husband did this so I would not become chummy with these women. This way when he claimed to be working or on a shut-down, if I did not develop a relationship with these women there would be no chance of a conversation where I might say that he was at the mill and them saying there was no shut-down or he wasn't there.
I feel sexually addicted people are masters at deception and very manipulative. There are no boundaries or moral character for them to draw on. They systematically tear your life apart by the deception and lies. With all his activities I am thankful I do not have AIDS.
Tell me what your take is on gay men marrying straight women without telling them.
Hits: 949