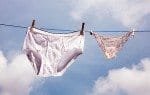 My husband was 28 and a virgin when I met him. I did not know he was a virgin just thought he was sexually inexperienced. Then when we began having sex, he told me he wanted to wear women's undergarments and watch me have sex with other men. I told him I did not like him talking about that stuff and to please stop.
He did for awhile then we got married and had children. The first few years with the marriage and children were wonderful, no complaints, maybe some bizarre talk during sex, but that was it.
Fast forward a couple years, I feel his behavior is out of control. He likes to go to Victoria's Secret and tell the sales girl he is there to be punished for wearing panties and he needs to buy more for himself. He told me he could see our neighbor across the way naked so he would watch her every morning and thought about calling her to see if she was interested in a threesome.
He wants to send pics of himself in women's panties to my friends so they can all laugh at him and what a small penis he has. He also contacts former female coworkers with strange emails about wanting to tell them deep dark embarrassing secrets, ie, the small penis thing and women's panties. He recently told me he wants to go to the mall wearing women's panties and try to expose his panties to women so they would laugh at him.
He has so many fetishes I don't know where to start, me having sex with men, making him participate, small penis fetish, dressing like a women, women humiliating him, threesomes.
He thinks none this is weird and lots of women would be into this stuff. He seems to have no sexual boundaries and does not care about women thinking he is a freak. He does not think about the consequences. And we have never made love, it always about his fantasies and me being with other men or women making him dress in panties and telling him how inadequate he is.
I don't know what to do anymore, it seems to be out of control. I'm not sure what to do in this situation. Hearing other women's stories is very helpful. Although, I feel my situation is even more bizarre because my husband's fetishes are so strange and seem abnormal for even a sex addict.
Hits: 2761