Shat-ter
v. shattered, shat-ter-ing, shatters
1. To cause to break or burst suddenly into pieces, as with a violent blow.
a. To damage seriously; disable
b. To cause the destruction or ruin of; destroy
To Cause to Break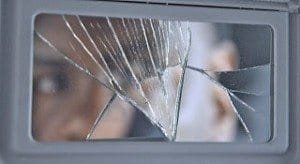 We had been married less than one year before all of my hopes for the future were ripped away from me. Less than 10 months after I was married, I caught the love of my life with someone else. I did not know then, as I know now, that his affair was simply a symptom of the broader, secret addiction haunting his life.
No one prepares you on your wedding day that you would not see a one year anniversary before you would be faced with one of the largest hurdles a couple could face.
No one prepares you on your wedding day for the pity of your family and friends when you tell them that less than one year into a marriage your husband has strayed.
No one prepares you on your wedding day for the blinding pain of betrayal.
Most of all, no one prepares you for the debris that is left in the from the aftermath of sexual addiction.
I tell myself now that I was naive. I should have known that our love was too easy, that we were always meant to say goodbye, that we should have argued more. I keep lists of everything that I would do over if I could. I would erase his existence from my life except for the single fact that the pain he caused me led me to seek relief and release in a long forgotten dream.
Never having lived with anyone other than a roommate, I let myself believe that the growing tension and distance was part of the adjustment of living together for the first time as a married couple. I LET myself BELIEVE. That is the key. Somewhere I have to blame myself for what I didn't know, what I could not foresee, and that was my role as enabler of his addiction. Like a moth to the flame the addict seeks out the enabler. The chemistry was overwhelming. I had no idea what I was. I enabled all of his lies, his lifestyle, his betrayal, by my willing acceptance to take him at his word, love him unconditionally, and support him for better or worse.
By the time we were married 6 months, he had already turned our lives into a ritual of making me feel guilty about something. Not enough sex, too much sex, not the right kind of sex, didn't do the laundry, didn't do the dishes, he's too fat, I'm too fat, I'm tired, he's tired, I was diagnosed with a lifelong illness, he was needing a new job. It was my fault that he didn't want to kiss me because God forbid I ask him to brush his teeth first which he considered was only important when going to work.
I was working too many hours (which might happen when you have over 50 buildings under construction simultaneously), not having enough fun, not doing this or that, perpetually chasing the list of things I didn't get right in his eyes the day before, and I didn't even know it. I took care of his dog, my dog, built the fence in the yard for the dogs while he spent the summer weekends partying on his boat, and making me feel guilty for not partying while simultaneously making me feel guilty that he felt guilty that I was building a fence by myself.
I see it clearly now.
I was already broken before I caught him cheating. He had manipulated me from day one, molded me into an extension of his addiction, and ultimately used marriage to me as a mask of normalcy under which he could hide his dirty secrets from the world, from me, but most importantly, from himself.
Shakespeare wrote "There is special providence in the fall of a sparrow." Can a winged creature actually fall when under divine influence? Seriously? For me it was more like a whack followed by a downward rush and a thud at rock bottom, but then again I have never considered myself graceful.
Now I get up. I feed the dog, the horses, and myself in that order, every day.
I go to work.
I come home. I feed the dog, the horses, and myself, in that order, every day. Every day I hope tomorrow will be better because something has got to give, right?
I try to sleep which technically should be easy for me since I have narcolepsy, but almost every night the nightmare comes. It is always the same.
I receive a phone call from him saying he is too drunk to drive home so he is going to drive to the boat and stay there. Logically, because I am mostly a rational human being, I wonder why would my husband go sleep on the boat in the middle of the work week because he is "too drunk" to drive home when the boat is the same distance from where he supposedly was calling from to our house? I oscillate between guilt about whether he will make it there safe and sound, anger that he is driving anywhere at all instead of taking a cab, and gut instinct telling me there is something doesn't add up.
Fast forward-1 am at the boat. I have confirmed that his car is in the parking lot. Of course I don't have the fancy ID card necessary to get through the locked entrance (which I now secretly suspect the sole reason for only providing one key with moorage is to keep wives from checking up on their husbands). I turn around to go home, having assured myself that he is alive, and then notice not one, but apparently two shadows backlit behind the curtains of the boat?
Fast forward -skipping the decision to go look, the not-so catholic school girl way of getting in through the locked gate, and I am on the dock beside the boat.

Clearly there are two people in our boat.
Clearly they are not at opposite ends of the boat.
Clearly they are a little too close together; in fact they seem to have become one shadow all of a sudden.
Fast forward -I am inside the boat. He is naked. She is also naked. The "Vindicator" stinks of betrayal, alcohol and sex, and he is getting himself "ready" for another round by masturbating. She looks like me, only younger, MUCH younger. I say "Thanks a lot for doing this" or something equally non-offensive because I am always, without fail, polite: sickeningly polite and too proud to yell and scream while there are two naked people in front of me, one of whom is the man who stood at the altar 10 months earlier and professed to love me, ONLY me, for all time.
He looks at me. "Sorry". Naked person number 2 looks clearly surprised that there is a "wife". I see that his apology comes from his lips but it fails to reach his eyes.
He makes no move towards me.
He does not come after me as I turn around and run out. For all he knows I have fallen off the
boat in my haste to get on the dock. By the way, it is a LOT easier getting out of the locked
entrance than in.
He does not come after me to see that I made it home safe and sound while driving without
being able to see because of the torrential rainstorm that has become my eyes.
He does not know that once I steered the car towards the side rail of the bridge.
He does not know that once I aimed it towards the telephone pole.
He does not know that the only thing that kept me from erasing the blinding pain of his betrayal
was my duty towards the two canines in the back seat. I would never do that to our "babies."
And then it repeats – the cause – followed by the white hot pain of the break…over and over as I scream silently all night long. There is no comfort. There is no solace. Only pain over and over like I'm stuck on a merry-go round and I keep yelling…"I'd like to get off now, PLEASE". Hell, I am even polite in my nightmares. I usually wake up sweating. After that, I can sleep.
Burst Suddenly Into Pieces
It is odd how breaking apart into a million pieces at once is really an exaggerated way of saying someone has "disappeared". Poof! It is sudden, brutal, and graphic. The fragments of body, mind, and spirit, in their weakened state, are not strong enough to brace against the downward spiral. They disappear into the black hole called "Who You Were".
Recovering from an affair is technically possible, or so I was told. WE went to marital counseling for HIS affair. At that point I remember the lady saying she thought my husband might have a sexual addiction. Not really being given a definition, I assumed that meant someone addicted to sex. He did not see it as such and refused to see a sexual addiction counselor after a few attempts because the counselor "made him say dirty words" that made him feel uncomfortable. " UNCOMFORTABLE?" I would say. "Imagine how comfortable I felt watching your naked body with someone else. Cry me a river." Meanwhile, back at the farm, I was gone, incapable of making complex decisions, not knowing whether to stay or to go, only knowing that I didn't know enough to make a decision.
I got up. I fed the dogs, then myself, in that order, every day. I went to work. I liked coffee and dogs. I tolerated my job and held all the pain inside as now there were 75 buildings under construction simultaneously and I couldn't afford to fail at that too. I went to counseling sometimes after work but realized that he needed a lot of counseling just to get to the point where his affair was not my fault. I fed the dogs, ate dinner with him, and went to bed early so that I would have enough time to have the nightmare AND still get 8 hours of sleep afterward. I would not, could not touch him. If I could, I would have grabbed a blanket, a baby bottle, and curled up in the fetal position for eternity.
When the pieces of you are scattered about in so many pieces that it is impossible to put them back together, it is not hard to figure out why Humpty Dumpty sat on the wall. He was married to a sex addict! All the King's horses and all the King's men couldn't put my heart together again.
I was ashamed to go out with his friends because they didn't know what he had done, and ashamed to go out with mine because they did know what he had done and were not comfortable in his presence. The black hole called "who you were" had taken everything.
It took my smile.
It took my laugh
It took my voice.
It took my friends.
It took my opinions.
It took my empathy.
It took my sympathy.
It took my joy.
It took my ability to trust.
It took my music.
It took my reason for living.
And then it got worse.
Like a hunter I tracked down the evidence of betrayal and found no less than 3 times of infidelity within the first year of our marriage. Each time the evidence was presented to him, he would 1) try to lie 2) admit it and then 3) blame some fault in our relationship for it.
I shattered again, and then it got better.
My husband, in his infinite wisdom about how what he had done was clearly the result of me not being happy with my life, asked me what I wanted the most. I remembered every year an item on my Christmas list that I had never received – a horse. He convinced me that I should do what makes me happy which would therefore make him happy and our marriage would go on the "happy track". If soul mates came in horses, she would be it; flame red with black points, smart beyond belief, innocent, untouched, willing, proud, and beautiful. She saved me. She took the black hole that was "Who You Were" and patched pinholes one at a time with unconditional love until it felt like I could finally breathe again without losing all of my oxygen through the cracks.
I got up. I fed the dogs and myself in that order, every day. I went to work. I went to the barn. Horses don't lie. They either do something, or they don't. They don't TELL you they did something when they didn't. It is a beautiful thing really.
Over the next year there were smaller missteps but I did not catch him cheating. While on a business trip for a month, there were charges on the bank statement that belonged to a strip club. He had lied about where he was at the time. I was furious. I asked him how I was supposed to build trust if he lied. He apologized and promised to do better. Another time, while he was out drinking with buddies, he called to invite me out. I said no, predictably. Again, the charges on the bank card didn't coincide with where he said he had been. Again, confronting him just led to lies until eventually he would admit that he and his friends had gone to several places that evening. This became a habit. He would tell half-truths about his whereabouts in an effort to not get me suspicious. This would result in an argument over money being spent bar-hopping when he was 39 years old which then would be turned against me as an argument over the cost of a horse. He became jealous of my unconditional love for a horse and my overwhelming clarity that I knew where I wanted to go and what I wanted to do. Again, everything was my fault. The weight I carried in guilt equaled 30 extra pounds by this point.
So I got up. I fed the dogs, and the horses, then myself in that order, every day. He never helped with the exception of helping himself to a drink and watching me work. I went to work, came home, fed the dogs, and the horses, and went to sleep to await the nightmare praying for relief.
And then it got worse.
He was laid off. The last thing a sex addict needs is loads of spare time and a computer. He became verbally abusive in his quest to blame me for everything. He spent his two months off of work "at the gym" although never lost a pound. He walked around saying "WE" were laid off because he was, even though I was working full time and running a horse boarding, breeding, and lesson business on the side without any help from him. He took the first job offer that came and moved out of state without as much as a backward glance.
And then it got better.
I discovered while he was gone that I did not miss him. I did not miss being blamed for everything. I did not love him. I did not trust him in a long distance marriage. I could not control him and it wasn't my job to keep him on the straight and narrow. I WAS strong enough to do what was best for us both. I asked him for a divorce.
And then it got worse.
Having a sexual addiction and being obsessive enough to write lists about everything is somewhat of a hazard to one's health. Since he had left all of the paperwork with me, I set myself to the task of finding the records of debt and asset prior to marriage for both. He obviously had no interest in moving the divorce forward because I am the "walker" and he is the "talker" and who wouldn't want a wife who takes care of everything even reminding you when to brush your teeth? The results of my search shattered me again and again and again.
1) Records of prostitutes
2) Records of multiple porn subscriptions
3) Records of Single's ads
4) Records of large withdrawals of cash followed by mortgage and boat payments bouncing up until the point where we combined our finances into a joint checking account at which point he could no longer randomly withdraw $400 to pay for his addiction without me noticing.
5) Records of Pay day loans taken out to cover the fact that huge sums of money were being withdrawn for these things
6) Records of STD testing, sores in places the sun doesn't shine, and HIV counseling. This made me almost throw up and sent me straight to the clinic for another round of testing to see if he left me any parting "gifts".
I am thankful that I decided to get a divorce, as painful as it has been. Without that single decision, I never would have known the extent of his problem. We never had a chance and I see that now. The records of this behavior date back to before I even met him, only he never cared to disclose it. How could a marriage possibly work when one person is honest and the other has a life made up of lies intricately woven into a shroud of normalcy? He simply would have lied and lied and hurt me and hurt me until one day giving me something that would kill me.
He has never admitted his problem. He likely never will. He will simply find another victim to take advantage of. There is an addict on the prowl for an enabler now – to him it is called 'Operation Look Good'. I found those records too – the plans of how to lose weight, dye his hair, fake tan, etc.
To Cause the Destruction or Ruin
As I look around the wreckage of what once was my life, it is difficult to distinguish the pieces of me from the tiny pieces of dirt that the dog tracked in. If I look closely, I can recognize the ones that are still bleeding from the gaping hole in my heart. To say that he ruined my life is an understatement. He erased 6 years of what I thought I knew to be true. Everything was a lie. He made me a liar about OUR life. He lied to his parents. He lied to my parents and my father on his deathbed. All of this was done to protect what was most important to him – his addiction to sexual fantasy.
Now I get up.
I feed the dog he left behind, the horses, and myself in that order, every day.
I go to work. I bite my tongue from the pain of trying to hold it all together because I need the money since my husband's "secret", "other", "real?" life took every dime "we" had and has left me financially, spiritually, and emotionally bankrupt.
I come home. I feed the dog, the horses, then myself, in that order, every day.
I go to bed every night hoping that tonight the nightmare will stop and that the black hole called "who I was" will release me from this living nightmare so that I can wake up assured of "all I will be".
Brenda
Hits: 1751