I know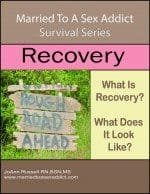 I have been promising this for a long time, but the task of writing a comprehensive eBook on Recovery was a much bigger task than I had ever imagined.
Every woman who has gone through the pain and turmoil of discovering that their partner is a Sex Addict seeks answers to the same questions.
Why did he do it?
Why does he lie?
Will I ever trust him again?
What is recovery?
Is it even possible to recover from Sex Addiction?
How will I know he is taking his recovery seriously?
What should I be doing during his recovery?
Can I help him recover?
I have managed to answer these questions and even more.
Allow me to explain what this eBook is NOT.
It is NOT about how to recover from Sexual Addiction–the internet is filled with that type of information.
It is NOT a guideline that you can show your spouse to help them recover.
It is NOT for or about the Sex Addict.
This Book Is About YOU!
This book is a guide that will help you navigate through your spouse or partner's recovery from Sexual Addiction. It will help you understand the necessary steps that a Sex Addict must take along their journey toward recovery. It will help you to recognize whether or not your partner is truly engaged in and committed to their recovery from Sex Addiction. This book will give you the knowledge and tools to help you recognize when you are being deceived.
Most importantly, this book will help you understand what you can do for yourself during your spouse's recovery. But, this book will not tell you how to 'help' him recover. There is no way that anyone can help a Sex Addict in their recovery. They must choose to give up their bad behaviors, they must do the hard work themselves and they alone, will succeed or fail.
To order, simply go to the eBook page for more information and a partial Table of Contents.
Blessings to all.
Hits: 142